Make better decisions with more data
New release!
Many internal communications teams spend hours crafting detailed and strategic campaigns, but lack the data to understand how they perform. With Workshop, your team can make more informed decisions and answer those important questions to better inform strategy going forward. 
How many people saw that announcement? Is there a segment of the company that is less engaged? Did the new design of our newsletter improve click-throughs?
Workshop's email analytics provide in-depth insight into how your campaigns are performing, how engaging your communication strategy is, and what teams are more informed. (Learn more about all of the metrics we measure here.)
Track opens, clicks, and beyond
Get to the heart of how your emails are performing with easy-to-understand open and click data, so you can improve engagement going forward.
Be sure your employees are informed
Just because the email was opened, doesn't mean it was read. Get a full view of how well informed your teams are with Workshop's read time chart.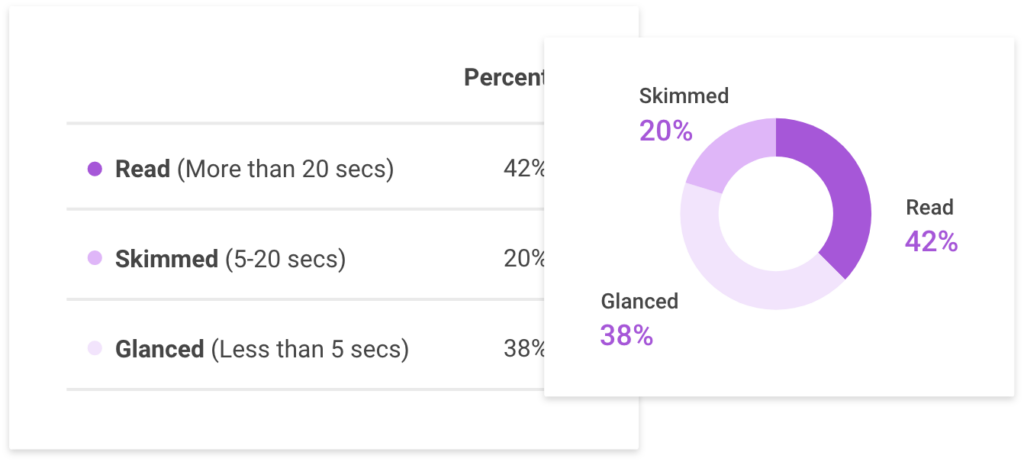 Get granular with employee-level insights
Wondering how to reinforce an important message? Get employee-level data to understand if it's best to do a mass follow-up email, or have a few simple 1:1 conversations.
Spot engagement dips across the organization
Use Workshop's advanced analytics to get a full view of how connected your teams or departments are. Spot a void in the organization? Work with department leaders to improve engagement with future announcements.
Feel at ease with the most beautiful charts in the industry
Stop fumbling through clunky graphs or spreadsheets. Workshop's charting is the most elegant and easy-to-understand in the industry. (You'll want to print a copy to share with your team!)
See analytics in action
Interested in seeing how Workshop's analytics can help your team improve strategic communication? Schedule a 30-minute demo and we'll walk you through it in person!