Employee COVID-19 Vaccination Status Form
Use this customizable form template to obtain verification and proof of vaccination status from your employees ahead of any potential new mandate.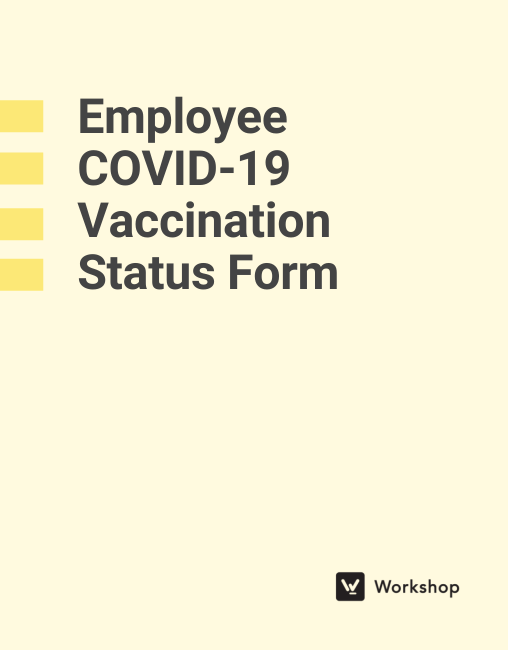 How to use this employee COVID-19 vaccination status form template
The Occupational Safety and Health Administration (OSHA) has finalized its emergency temporary standard (ETS), which strongly encourages vaccination to protect unvaccinated employees of large employers (100 or more employees) from contracting COVID-19.
Covered employers may soon be required to create, apply and enforce a mandatory COVID-19 vaccination policy for all employees, or adopt a policy that requires employees to either get the vaccine or wear a face covering at work and submit to weekly COVID-19 testing.
This form can help you gauge your workforce's current vaccination status through self-attestation. Essentially, this is simply when an employer asks its employees to share their COVID-19 vaccine status. Self-attestation doesn't necessarily require physical or electronic proof such as a vaccination record card; instead, employees are typically asked to complete and sign a form confirming their status. However, knowing that a full mandate may be on the horizon, you may choose to ask for confirmation (or remind employees that such an ask will likely be coming soon).
Remember: you must must meet compliance obligations with respect to medical records and the protection of employees' private and confidential information, but asking employees for their vaccination or medical card is not a violation of HIPAA. According to HIPAA's fine print, the Privacy Rule only applies to certain businesses and entities that handle personal health information (including doctors, hospitals and other associated businesses). This means that an individual's personal health information is protected by limiting its usage among HIPAA-covered entities. Therefore, it isn't a HIPAA violation to ask an employee for vaccination proof…however, under HIPAA, it is a violation for an employee's medical provider to disclose this information without prior authorization. This is why we opt for self-attestation and requesting the information from the employee themselves.
Disclaimer: This document is intended for informational purposes only, and does not constitute legal information or advice. This form should be reviewed by legal counsel to ensure that all local, state, and federal regulations have been met. Please do so before making it available to your employees.
What if we aren't making COVID-19 vaccines mandatory?
If your company is not mandating the vaccines, you can add an additional option on the vaccination status form for "I decline to answer whether I have been vaccinated."
In that case, you may also want to include the following in your communications to make it extra clear what selecting that choice may mean for the employee:
Please note that you are required to provide accurate information about your vaccination status in response to the questions below, or alternatively may decline to provide your vaccination status. If you decline to provide information about your vaccination status, we will be required to assume you are unvaccinated for purposes of rules or requirements in the workplace that are different for vaccinated or unvaccinated employees. For example, if requirements on face coverings allow fully vaccinated employees not to wear face coverings in certain settings, the information collected below will be used to determine whether you will be required to wear a face covering in those settings.
Download your free resource
Employee COVID-19 Vaccination Status Form Template
Your resource will be downloaded right away!
Request a resource
Not seeing the resource you need? Request the resource you need below and we'll make one! Seriously!