Create engaging communications that help scale your company culture
Investing in internal communications is the fastest way to improve employee engagement.
The simplest software for improving employee engagement
Reinforce the company's mission, values, and culture
Add images, videos, quotes, and more to your internal emails and thread your company culture throughout your day-to-day communications.
Target your messages to the right teams at the right time
Easily create custom distribution lists and schedule messages for specific time zones to make sure employees are only getting the information that's most relevant to them.
Increase engagement for internal memos and announcements
Turn on comments and reactions to help spark conversation, answer questions, and build momentum for your communications.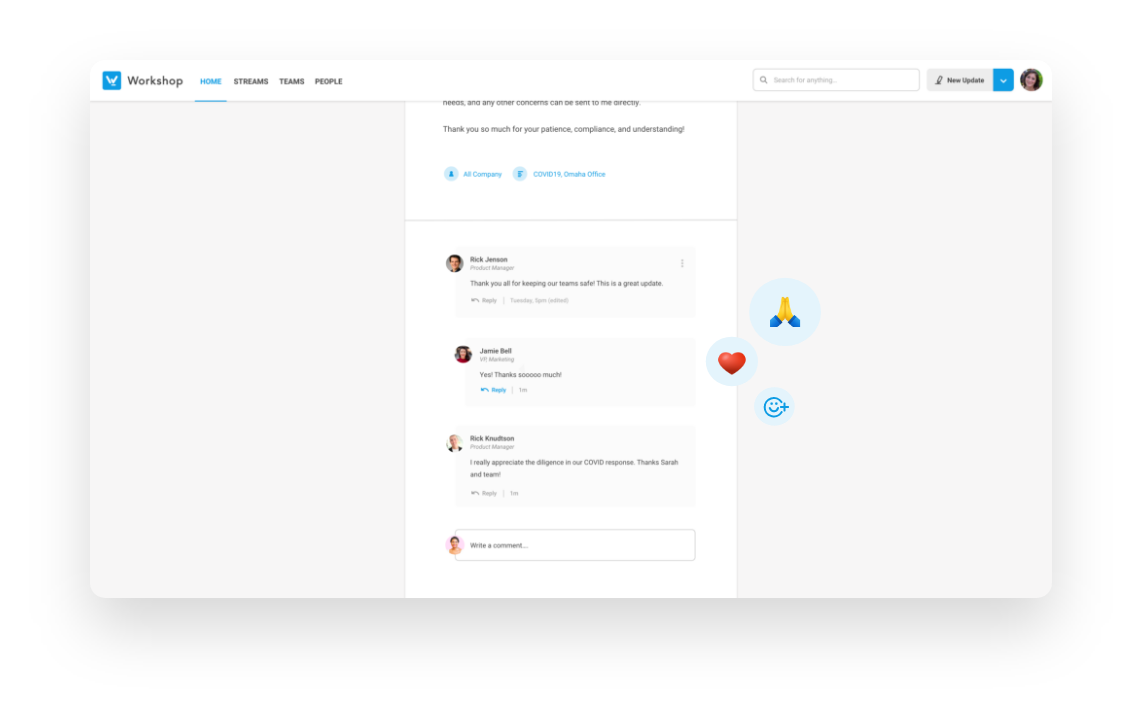 Empower and support your employee resource groups
Give your ERGs and internal advocates a platform to promote organizational goals, share resources, highlight wins, and build community.
Break down silos and create a community
Share information transparently across departments and reach your remote, hybrid, or deskless employees every time.
Create an employee engagement action plan
Build an effective action plan following the results of your employee engagement survey! This template gives you an easy place to start.
DOWNLOAD NOW
Get an introduction to Workshop today!
Improve employee engagement & communication
Use Workshop to create & share all kinds of internal communication: all-company newsletters, policy updates, office closures, and more, all within a single piece of software.
Watch a 1-min demo
Your logo