Communicate effectively during a crisis
Reach your employees when it matters the most. Our mobile-friendly, multi-channel platform can help you quickly connect and efficiently communicate with your team during an urgent situation.
The go-to tool for crisis communications in 2021
Reach frontline & deskless workers immediately via text
We've seamlessly integrated SMS into our communications software, so you can push important information straight to the cell phones of your distributed team.
Create a single source of truth during an ongoing crisis
Crisis situations are constantly evolving. Our updates are all editable, so you can provide employees with the most immediate information you have available.
Pre-prepare for anything with customizable templates
Create communication templates in advance for any incident, channel, or location, and save yourself vital time in an emergency.
Gather info and gauge sentiment quickly
Turn comments on to get feedback from on-the-ground employees and manage urgent questions all in one place.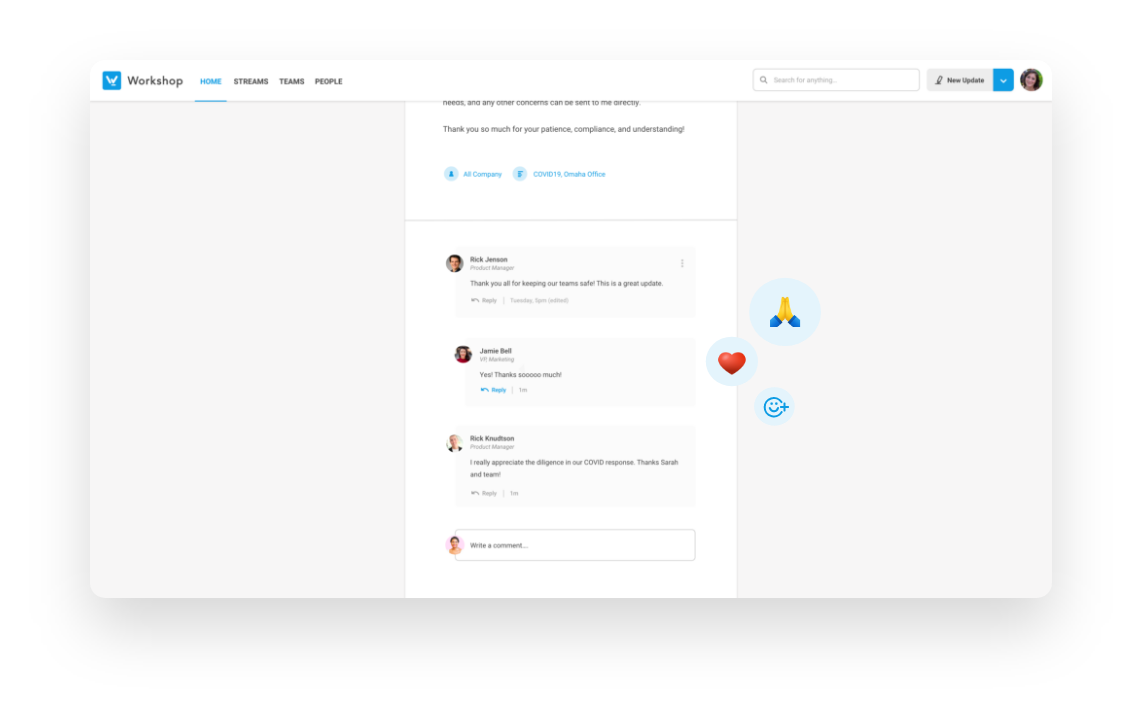 Do you have your crisis comms plan ready?
A crisis communication plan is a set of guidelines and procedures used to prepare a business for an emergency or unexpected event. It include steps to take when a crisis occurs, who is responsible for what, and how to communicate with key stakeholders. This fully customizable template (and completed example) will give you a head start in creating your own crisis communications plan!
DOWNLOAD NOW
Request a 30-min demo of Workshop
Improve your internal comms
We're great in a crisis, but we also have a ton of day-to-day applications. You can use Workshop to create & share all-company newsletters, policy updates, office closures, and more!
Watch a 1-min demo
Your logo