How to create an engaging internal communications newsletter
What is the purpose of an internal newsletter?

The purpose of an internal newsletter is to inform, include, and inspire employees. You want to inform your teams about what's happening in and outside of the organization; include their voices, stories, and accomplishments wherever possible; and inspire them to live the company's values and reach its ultimate goals and objectives. 
I want to build an internal communications newsletter. Where do I start? 
Here's the thing: we find that the best internal newsletters don't just come "from the desk" of the internal communications team. You truly are the voice of the company, and you should embrace that role and send a company newsletter that really tells the story of the individuals who work there. Sure, the internal communications team is responsible for curating it, creating it, sending it, and measuring it. But at the end of the day, you really want your teams to see themselves in it.

So, rather than sharing "internal communications news," regurgitating PR stories, or focusing only on what the comms team is working on, just use your internal newsletter as a platform to amplify the stories and messages that are most important to your employees. (In other words: make the newsletter about your audience, not about you!)
Of course, it's easier said than done. The ultimate challenge is that you want your internal newsletter to be a reflection of the company as a whole, but you also want it to feel relevant to the employee who is receiving it. This is where the nuances of sending and segmentation lie, but we have a simple solution for tackling that — skip to it here, if you'd like!
What should be included in an internal newsletter?

Here are a few sections that a lot of our customers include in their internal newsletters: 
Company metrics/performance updates

Celebrations, launches, team accomplishments

Customer highlights, like great online reviews, social mentions, or cool use cases

Education (little bits of ongoing training, or did-you-knows)

Events, holidays, and observances (give them something to look forward to!)

Employee spotlights

One major call-to-action (call out the one thing you want the team to do this week)

Pulse surveys (these are interactive and

so

much fun!) 

Plus, we love ending our newsletters with a little GIF, meme, tweet, or surprise 😉 
You may wonder what the 'ideal length' is for an internal communications newsletter; unfortunately, you're going to have to test your way to that answer! For organizations with a lot of frontline or deskless employees, you may find a simple, text-based, mobile-friendly design paired up with  something like a "fast five" works well (basically, 5 things you need to know this week). For others, we find that a really beautiful internal newsletter design template that includes employee photos, branded elements, GIFs, and surveys is the key to engaging the team. 
What is the most important element in an internal newsletter?
The subject line is the most important element in any internal newsletter or email. If your employees don't open it, then the content you've carefully curated for them really doesn't matter!
You can try a few different approaches with your newsletter subject lines to see what performs best for your team.

We've seen the  following internal newsletter subject lines perform really well for various organizations:

[Month] news + [a fun thing!]

October news + our latest launch

December news + holiday party

[Newsletter name] | [Date]

Workshop Weekly | January 3, 2023

Product Updates | March 2, 2023

[Newsletter name] | [short description]

Workshop Weekly | Meet our new CEO! 

Workshop Weekly | Employee award winners!

What's new for [month]

What's new for January

The latest & greatest for March
It's best that there is some element of your subject line that remains the same from month-to-month, just so it's clear to employees what they can expect (and they know what it is in their inbox when they see it). 
---
Need help coming up with a creative name for your company's internal communications newsletter? Here's an in-depth article on all of our favorite best practices, ideas, and examples of employee newsletter names. 
---
How do I get content for an internal communications newsletter? 
In order to create an internal newsletter, you have to start with two things: content and design. 
We find that internal communicators often run into two scenarios when creating content for their all-staff newsletter: 1.) it's like pulling teeth to get other departments to contribute to it at all, or 2.) every department wants their own stuff in it. 
If you're just starting out, focus on creating a really engaging newsletter that makes other departments want to be a part of it. We've seen it hundreds of times with Workshop customers; once the internal communications team launches an all-company newsletter with a great design and some well-crafted content, other departments will be clamoring to either get their own newsletter and/ or be a part of the all-company one.
Of course, it doesn't hurt to set up some light project management to assist with those requests. We often recommend setting up a Google form of some kind for other departments to fill out if they do need something specific from the internal communications team. 
As far as the newsletter goes, you may want to do a few rounds of requests for content submissions. Typically, I'll start with a global ask to all department heads ("Anything to include for the newsletter this week?"), then narrow my search as we get closer to the send date. Don't be afraid to ask a frontline employee for an idea, or go directly to a specific department with a very clear ask.

When in doubt, try reiterating important information in a new way…for example, what did the CEO emphasize at the all-hands meeting last week? The best way to get content for your internal communications newsletter is simply to always be listening. 🙂 
If you feel like the content in your newsletter is really great but you're still struggling with getting employees to engage with it, here are 20 ideas that may help!
How do I design an internal communications newsletter? 
The very best way to design an internal newsletter is with a drag-and-drop email template! We offer a bunch of ready-made newsletter templates as a part of Workshop, and we often consult with new customers on ways to improve or recreate a template they've liked in the past. A drag-and-drop newsletter template makes it really easy to add or subtract sections as you see fit, and will save you a TON of time each month since you won't ever have to start from scratch. 
The design elements will vary from company to company, but here are a few newsletter email design tips you can consider: 
Use your brand colors effectively throughout the email (remember, it should feel like it's coming from your company, even if it's for internal eyes only!)

Your brand's fonts probably won't work in email

, so work with the marketing team to determine what fonts are suitable replacements. (You can always incorporate some fonts via imagery, too!)

Add in GIFs to create movement and more dynamic images. They aren't

just

for silly animals; you can use GIFs to create moving patterns, flashing text, all sorts of things.

Use

Canva

to create on-brand images whenever you need them! You can use it to either design your own graphics, or you can even pull from their thousands of stock photos, as well. 

Make it human and make it unique to you. Employee or customer photos, even if they aren't the best quality, always perform really well! 
How do I send an internal communications newsletter? 
If you're just starting out, you probably just want to send the newsletter to all current employees. Oddly enough, this is usually easier said than done. Some employees may have left, some employees may have joined…so you may have to work with the marketing team or the IT team to get a completely accurate list of current employees. (Workshop's email platform syncs with your HRIS/payroll provider, so our customers always have an accurate all-company list!)
If you're looking to get a bit more sophisticated with personalization and segmentation, you can also try sending different variations of your internal communications newsletter! We most often see this segmentation done for different offices or departments. You don't have to make the entire newsletter different; you can reserve a certain section and just swap it out for the relevant content. (An easy example would be an events calendar section for different office locations, or an employee birthday section for different departments.)
Bonus: With Workshop, you can create specific content that's displayed based on the employee's list membership in any row in your email! No need to create duplicate internal newsletters.
At a minimum, you'll likely want to segment your newsletter by location just to send it at the right time in each time zone. (In Workshop, it's really easy to schedule these sends in advance.)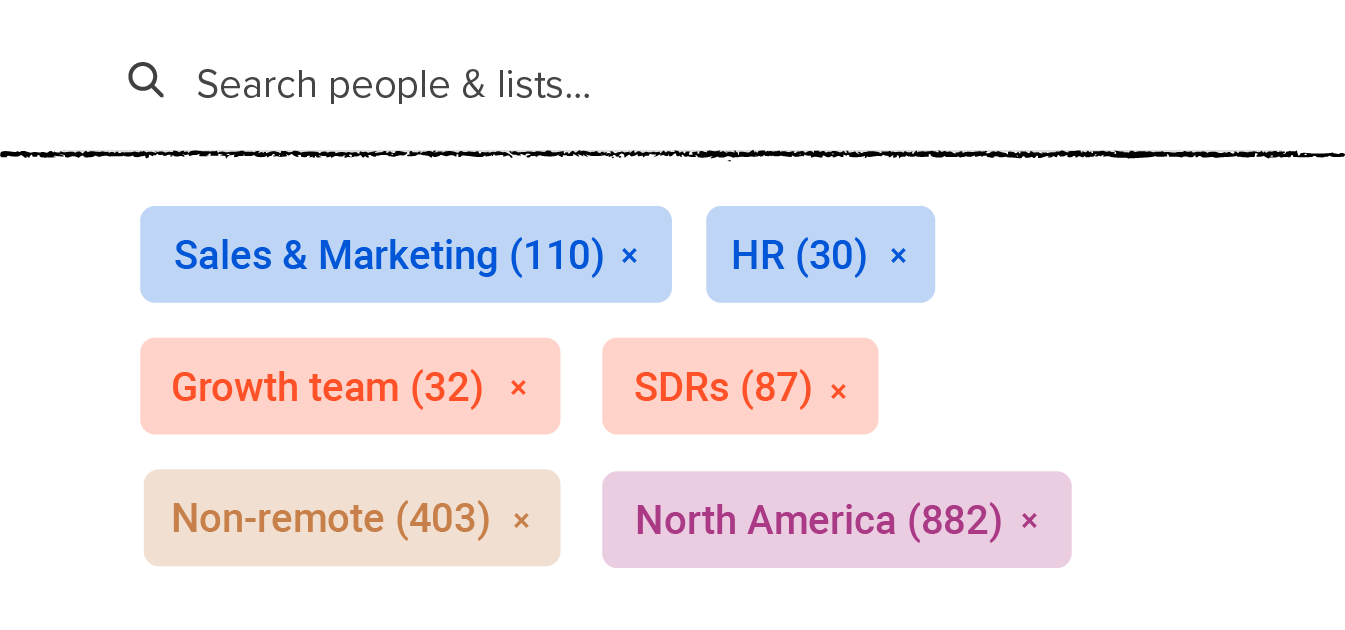 How do I measure the results of our internal communications newsletter?
Sure, you can always measure the standard open and click-through rates, but that's often not enough. 
The key here is to make sure you're using internal newsletter software that is better able to manage your distribution lists and track open rates. With the right tool, not only can you see open rates down to an employee level, but you can also really drill into and segment that data (by role, department, employee, or location).
For example, we often find that sales teams are less likely to open an employee newsletter than other departments; if this trend continues, you may want to consider a more abbreviated format for that audience, for example. 
We also offer other key internal email metrics that can really help you to perfect your internal communications strategy (like read time, devices, and even engagement data across multiple emails).
Also, never discount the power of qualitative data. If you're getting feedback from employees that they love a particular section of the newsletter, or they're looking forward to getting the next one…count it! Those measures of success should be celebrated, too.